The engine compartment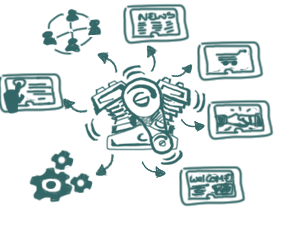 Advanced solutions require solid technology!
We use Backoffice CMS - an open source, module-based platform based on:
Userfriendly approach


Backoffice CMS enables administrators and web editors to control advanced features with simple tools/in an easy way.


This means that users without technical expertise can work with the systems, without fear (or possibility) to do things wrong.


Technology must be adapted to the users needs - not the other way around!





Central Control Unit


Website, webshop, mobile site, extranet, campaign- or brandsites,
language versions, landing pages....


Same domain, multiple subdomains and/or domains: Solutions are always controlled by the same, central Backoffice.


You can always control everything from the same Backoffice.





Work in your own language


We often work with international projects that involves multiple administrators and webeditors from different countries.


Backoffice CMS supports multiple languages. This means that each (part)administrator can work in the language he/she prefers.


Do you speak english? Snakker du norsk? Habla español? Parlez-vous français? Fala Português? ...Backoffice does!

Wonder what our customers say about us?